XANADU a. s. received the HPE CERTA GreenLake Partner of the Year 2022 award from Hewlett Packard Enterprise
28. 06. 2022
Hewlett Packard Enterprise (HPE) has announced the winners of the 2022 HPE Partner of the Year Awards. The award-winning companies exemplify commitment and success in delivering value to their customers on their digital transformation journey. This recognition is awarded by the company to partners who have achieved exceptional results in terms of financial performance, innovative solutions and meaningful business results. The HPE Partner Awards recognize the company's partners who have demonstrated outstanding performance, their commitment to customer success and satisfaction, and their focus on growth, innovation and self-improvement.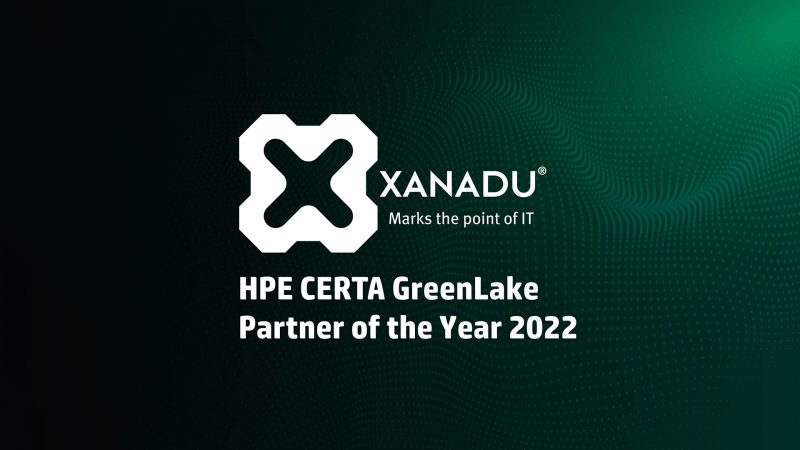 XANADU a. s. received the HPE CERTA GreenLake Partner of the Year 2022 award from Hewlett Packard Enterprise. This award demonstrates the high expertise of XANADU a. s. in the field of implementing HPE GreenLake solutions and the determination to bring better results to customers and help use their growth potential using top technologies.
"We are honored to celebrate this year's HPE Partner Awards winners as the partner channel has once again demonstrated its ability to adapt, transform and grow together," said George Hope, global director of partner sales at HPE. "Our partner ecosystem continues to be our foundation, and this year's partner award winners have best demonstrated success by working with HPE as a team. HPE remains committed to providing the best experience with opportunities for all partners to grow and succeed with us."
"At XANADU, for 30 years of our existence in the industry, we tried to establish ourselves mainly by introducing innovative products and technologies of world brands that took into account the needs of our customers. I am glad that the team at XANADU and HPE Czech Republic managed to convince customers of the advantages of non-traditional solutions that stand out in terms of security and flexibility compared to today's common cloud services. Moreover, the award of such a scale is a confirmation of the ability and willingness of people and companies to adapt to these innovations, which is a very encouraging finding for us at the moment. Thanks to courage and patience during the implementation of several projects, we have gained a lot of useful experience, starting with the proposals of individual solutions and ending with the subsequent operation of services. I believe that we will apply and develop this experience with other customers," said Tomáš Netolicky, director of XANADU a. s., in response to the award.