HP presents new multifunctional business printers
24. 10. 2022
A recent survey by Morning Consult, commissioned by HP, asked 1,000 office workers in the US and Canada what they value (and miss) most about working in the office. It turns out that what they really lacked was the press. A total of 57% of office workers surveyed said they missed the office printer more than free lunches or company happy hours.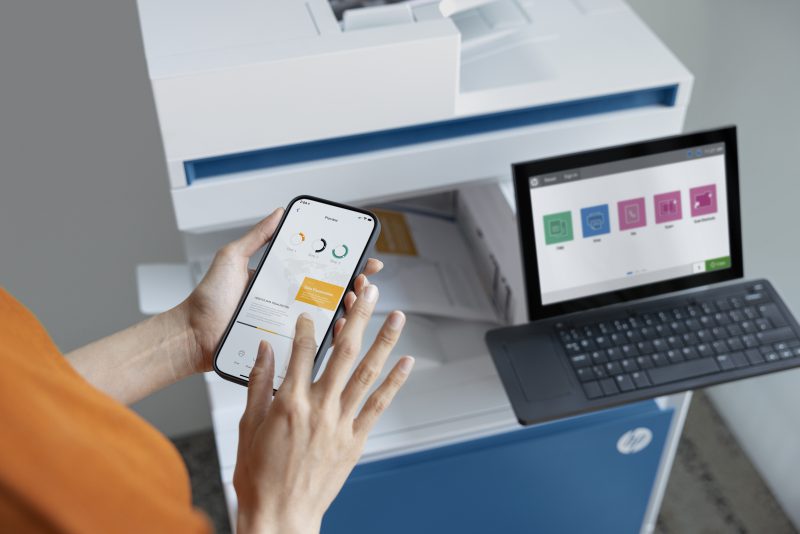 HP Inc. therefore introduces the HP LaserJet Managed MFP E800 and E700 series, a new portfolio of MFPs offering intelligent solutions that will help and inspire workers in the hybrid work model.
"As the hybrid work model continues to evolve, CIOs and their teams have never been more challenged," said Carles Farre, global director of print services and solutions at HP Inc.
"They need smart printers with advanced features that make work processes more efficient. The HP LaserJet Managed E800 and E700 series printers offer our customers and business partners an elegant, fully customizable and easy-to-manage portfolio that meets the needs of today's digital workplace – now and in the future."
The new HP LaserJet Managed MFP E800 and E700 series printers bring the following benefits:
Easier workflows and higher productivity: With new features, FLOW 2.0 offers a comprehensive workflow solution, including the ability to edit content directly on the control panel (highlighting, redaction or even signing) and also allow the use of customizable shortcuts. Innovative Reverse and Retry technology detects and clears paper jams and double-feeds at the same time, contributing to smooth workflows.
High performance and speed: Print speeds of up to 70 ppm and double-sided scanning at 300 ipm5 using a specially designed HP quad-core processor. Auto-recognition technology saves customers time and offers shade and color management, double-sided document detection, and automatic job splitting.
Customizable and elegant design: The printers offer a modern look and you can choose from five color panels to best match the printer with the interior of the office. The design solution HP Flex Build allows you to flexibly adapt the configuration to the needs of each company.
The World's Most Secure Print: A recent survey commissioned by HP and Morning Consult found that 67% of IT executives believe that ensuring privacy and security in a flexible work environment is becoming increasingly difficult, especially when it comes to printer security. HP Wolf Enterprise Security provides protection for HP LaserJet Managed E800 and E700 series printers, detects security threats and automatically restores their operation. Specifically, these new devices include a Memory Shield™ feature that helps detect malicious attacks on the printer and automatically repairs the printer if detected. Memory Shield uses a hardware-protected solution called Runtime Intrusion Detection, which actively scans memory for anomalies, and Karamba's XGuard CFI solution, which monitors the progress of command execution at the printer firmware level, helping to detect and prevent potential zero-day attacks.
Sustainability as a matter of course: HP fights deforestation and helps conserve natural resources with energy-efficient printing.
Availability
The HP LaserJet Managed MFP series E800 and E700 printers are available in the Czech Republic from October 2022.